Getting There, 25th September - Kathmandu to Bhulbhule
Day One, 26th September - Bhulbhule to Jagat
Day Two, 27th September - Jagat to Dharapani
Day Three, 28th September - Dharapani to Chame
Day Four, 29th September - Chame to Pisang
Day Five, 30th September - Pisang to Manang
Day Six, 1st October - Free Day Manang
Day Seven, 2nd October - Manang to Yak Kharka
Day Eight, 3rd October - Yak Kharka to Thorung Phedi
Day Nine, 4th October - Thorung Phedi to Mukinath - Crossing Thorung La
Day Ten, 5th October - Mukinath to Marpha
Day Eleven, 6th October - Marpha to Ghasa
Day Twelve, 7th October - Ghasa to Tatopani
Day Thirteen, 8th October - Tatopani to Ghorepani


Day Fourteen, 9th October - Poon Hill Sunrise then Ghorepani to Hile
9/10/10 07:00 Ghorepani, waiting for breakfast.
I woke up in the night with a lot of pain in my knees, hips and - randomly - elbows, and dosed up on painkillers. I got up on time, and Dhan and I joined the long line of headlighted tourist for the surreal shuffle up to the top of Poon Hill. The way up was mostly on stone steps, which were steep and slippery. As the sky began to lighten, a lot of cloud was visible on the horizon, so the mood was subdued, with all of us wondering whether we'd even be able to see the sun rise at all. It was a tough uphill climb, and I was bloody boiling, having worn far too many clothes. On the way up, only the top of Dhaulogiri was visible, but once we reached the crest of the hill a few more came into sight, although not the full set that you'd see on a clear day.
I consoled myself with the fact that the weather had been very kind to us all the way round, and it was better that Thorung La had been clear and Poon Hill was cloudy. I climbed to the top of the viewing platform and took a couple of predawn shots . . . to find the screen on my camera had turned the colours to pink and green. The shots I'd taken yesterday looked similarly distorted, so I tried not to worry, trusting that it was the screen that was playing up, not the camera. It came right after a while, so that was okay - I guess it doesn't like cold temperatures along with hot.
Dhan said that it didn't look like sunrise was going to happen (well, not in the picturesque sense, at least), and began to usher me back down the hill, when we bumped into the guy from yesterday who lost his camera. He asked if I'd take a couple of shots for him, and gave me his email address. We began an impromptu photo-shoot with him and his friend in front of the mountains - just as the sun put in a shy appearance, lighting up the top of the mountains the two boys were posed against. Quite a result. Just goes to show that it pays to do someone a good turn - Dhan would have had me halfway down again if he hadn't have shown up when he did. All too soon though he was marching me back down the mountain, just as an atmospheric mist rolled in.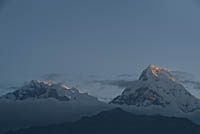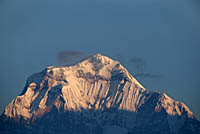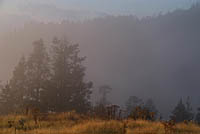 Typically, once we'd come down the skies were clear, although it looks like it's clouding up again now. Just eaten a very tasty cheese and mushroom omelette. I'll finish my tea then pack, as Dhan's keen to be off. Got 3,280 steps to go down later, according to my map, which I'm not looking forward to.
11:50 Somewhere down the steps.
Dhan's just come out with the idea that we're going to Pokhara tonight! He insists that I told him that, which I bloody didn't - I don't know what planet he's on, as I've mentioned several times this morning how glad I am that we're not going to Pokhara today like the South African and German groups. I guess it's a language thing again. At least that explains why he's been rushing me all morning - I couldn't quite work that out, as we only had a three-hour walk to do today. He's got all stroppy now, and says he'll have to cancel his tourist bus and catch a local, night bus.
I don't know what his problem is, as the trip was always meant to finish tomorrow, not today - it's not like I'm asking him to work extra. I'd have been quite happy to go the other, longer route staying in Tadapani. It's only because he was so knackered with carrying the bag that I agreed to come this way and stay the night at Tikhedhunga when he suggested it - I only agreed to do him a favour. I've already lost out on a number of kilometres of hike due to the route change, I'm not losing a day's hike too, however irate he is. Another reason he said for going this way was to avoid catching the bus at night . . . which we would be doing if we pushed on today.
13:30 Hile, lunch and overnight stop
Dhan changed his mind about where we're staying, which is a bit of a shame, as Tikhedhunga looked very nice as we walked through it. It's only 20 minutes away though, so I'll take a wander along later and take some more pictures. The first section of the journey today was on very slippery stones that looked like marble. It had obviously rained recently, as they were wet and muddy. I don't really know why the map made a point of highlighting one particular set of 3,280 steps, as there were steps for much of the way, which rough terrain in between.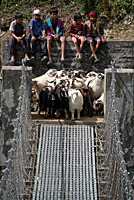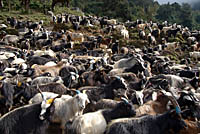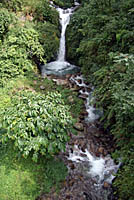 I was pretty slow on them, what with my knee and general lack of co-ordination - having come this far intact, I don't want to break a leg on the final furlong. Dhan charged ahead (now I know why, if he thought we were returning to Pokhara tonight). It was misty and overcast, so it wasn't a huge problem that I didn't have time to take photos. I bumped into the South African group one last time - they're off to Tibet for a week followed by India, so I won't be seeing them again. A little way on from that we hit the steps, which weren't as bad as I expected, although my knees felt like they were on fire.
We stopped for a up of tea, as more goats were being herded down the steps behind us. One was being sold off just up from the teahouse, and there was a distinct not of panic in his bleat as he was manhandled, and passed to the customer, that brought a tear to my eye (okay, I blubbed like a baby!). A while after the situation with Dhan that I've already mentioned, we came to the town where he'd said we'd be staying; a lovely place, with a beautiful big waterfall. I'd taken a few pictures from the suspension bridge, and finished crossing when a big herd of goats showed up. I got pictures of three of them on the bridge, but the rest of them were a little reluctant and took too long. I figured Dhan would have the hump if I hung around much longer; I was right, as I turned the corner to find him glowering at me!
21:00
I sat up tonight chatting with Jesse, who is also staying here, plus Jeremy from New Zealand and Fernando from Argentina, who are trekking off to the Annapurna Base Camp. I felt quite jealous, as I don't want my trekking to end - although I think my legs would quite like a couple of days off. I tried a couple of glasses of the rice wine that Dhan's so keen on, which was quite nice - though won't replace cider as my favourite tipple.

Click here for more pictures from Day Fourteen

Day Fifteen, 10th October - Hile to Nayapul then Pokhara by Bus
Annapurna . . . Finiss! 11th October - Reflecting on the Trip from Pokhara