Getting There, 25th September - Kathmandu to Bhulbhule
Day One, 26th September - Bhulbhule to Jagat
Day Two, 27th September - Jagat to Dharapani
Day Three, 28th September - Dharapani to Chame
Day Four, 29th September - Chame to Pisang


Day Five, 30th September - Pisang to Manang
30/9/10 17:10 Manang - overnight stop with an acclimatisation day here tomorrow - 3530 metres
I woke up at five this morning feeling full of energy. I could have started hiking there and then . . . but I didn't think Dhan would appreciate the early wake up call! This morning we could see Pisang peak rising up above Upper Pisang, from the Hilltop Hotel. It was a nice morning, and we climbed steadily whilst listening to the wind whistling through the trees. To the left of the trail were the majestic peaks of Annapurna II and III, with fluffy clouds scudding across them. It astounds me how quickly the scenery changes; with every few steps you get a different slice of mountain range - plus the clouds quickly forming and dispersing do their part to add to the variety.
Not far out of Pisang we met a tall, young Dutchman going the other way. Dhan had noticed him leaving Pisang that morning, and rightly surmised that he had a problem. I asked him if he was okay, and he said that he'd had a bad night already, and was feeling worse as he (foolishly) ascended. He heard people talking about folk being evacuated due to AMS (Acute Mountain Sickness, AKA Altitude Sickness, or High Sickness locally), and came to his senses and decided to descend. On top of the going-up-with-symptoms silliness (a big no-no - you either stay put until you begin to feel better, or descend), he also told us that he'd had a chest infection in Pokhara which he had been to the doctors about. Sometimes it does pay to be a worrier, and do your research, just in case! I gave him some of my supply of diamox, and instructions on how to use them, and checked that he was okay to go down alone (nursey Serena!)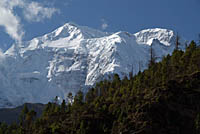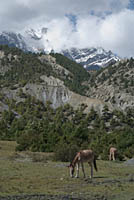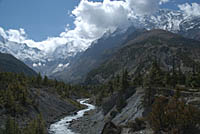 We stopped at a lovely place called Hongde for lunch; very pretty scenery, similar to that in Spiti, but with trees. The rescue helicopter came and went while we were there, evacuating people suffering with AMS. One of the symptoms is being in denial that you have symptoms . . . which goes on to be a cause of the potentially life-threatening condition worsening. Theoretically there is no need for anyone to be evacuated unless they are also injured, as descent is the cure. If your symptoms progress from mild (headaches that are relieved by painkillers and nausea, amongst other things) to moderate (headaches that are not relieved by medication and vomiting, plus more) then descend immediately. I do hope I'm not being too smug about all this; it's starting to have a ring of 'pride coming before a fall' to it!
The afternoon's walk was pleasant; mostly flat on a wide gravel path, lined with whispering pines. We stopped for a chiya about halfway, near a small tal (lake) with clear water and a wind-rippled surface (shame, as it would have reflected the mountains beautifully).Dhan suggested that I put the heavy things form my daypack into my big pack, then place my bag inside his pack, and carry that. On the first day, he had strapped his pack to the back of mine, but this was too heavy for him (which I can fully understand - it's the old fulcrum effect). Since then he's had my pack on his back, and juggled his bag from arm to arm - which must have been a major pain in the arse for him. I agreed, switching bulky rather than heavy things into my big bag, so my daypack would fit into his. While this was happening a horse walked into sight, dragging a long length of rope behind it. It had pulled free from its tether, and was sneaking off while its owner was drinking tea. He spotted his runaway beast, and shouted, so I sidled up behind the horse and stood on the rope, making the horse jerk to a halt. I felt rather proud of myself too . . . but hoped I hadn't hurt the animal in the process.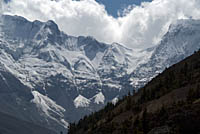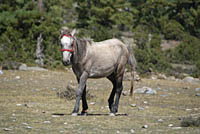 Our loads redistributed Dhan and I continued our journey . . . but the straps from Dhan's bag cut into my shoulders, and the waist strap kept springing open. I use the strap to secure my camera, stopping it from bouncing around annoyingly, and bruising my hips as it bashes against me (it weighs well over a kilo). A short way on I called a halt, and insisted that we swap bags - I'm more used to carrying my backpack, and it's much more comfortable than Dhan's pack had been. It was fine for the first ten minutes or so, but then boy was it hard work - especially as we're at 3,500 metres. I've even more respect for Dhan now, having walked in his shoes, so to speak. I manage to make it the hour or so to Manang, pausing at a small village outside the town for a few pictures of horses and stupas (and a rest!).
We arrived around four, and I checked into a reasonably nice room (with shockingly bad plastering) that contained two beds, a table and a bench - this counts as very well furnished in these parts. It had great views too, and I was very pleased with my home for the next two nights. The lodge had a fabulously hot, strong shower, and I got some clothes and myself clean. Dhan and I sat in the sun chatting for a while - as it's freezing in the shade - even in the sun I had my goose-down body-warmer and poncho on.
later . . .
I bought some choccy biscuits and treated myself to a bar of Dairymilk for an after-dinner treat, then sat down to tea. I'd ordered a veggie burger . . . which turned out to be greasy, fried veg (cold) between two bits of bread, and chips that were raw on the inside - not just a little bit, totally hard and inedible. The woman had thrown the oil away, so couldn't put them back in and cook them properly . . . but when I returned them uneaten she heated up some more oil for me, and I ended up with chips that I could actually eat, bless her.

Chris phoned me after dinner, and it was lovely to talk to him, even if it was a bad line. It felt a bit weird saying our goodbyes though - like a final farewell! Hopefully that's just my overactive imagination at work though, and I'm not really going to die crossing the pass. My god I'm a drama queen!

Click here for more pictures from Day Five

Day Six, 1st October - Free Day Manang
Day Seven, 2nd October - Manang to Yak Kharka
Day Eight, 3rd October - Yak Kharka to Thorung Phedi
Day Nine, 4th October - Thorung Phedi to Mukinath - Crossing Thorung La
Day Ten, 5th October - Mukinath to Marpha
Day Eleven, 6th October - Marpha to Ghasa
Day Twelve, 7th October - Ghasa to Tatopani
Day Thirteen, 8th October - Tatopani to Ghorepani
Day Fourteen, 9th October - Poon Hill Sunrise then Ghorepani to Hile
Day Fifteen, 10th October - Hile to Nayapul then Pokhara by Bus
Annapurna . . . Finiss! 11th October - Reflecting on the Trip from Pokhara