Getting There, 25th September - Kathmandu to Bhulbhule


Day One, 26th September - Bhulbhule to Jagat
26/9/10 13:30 Kambazaar, lunch stop
Stopped for lunch. Had a great day so far; weather's been lovely, sunny and clear - hot though. It rained heavily last night as I ate, so it's a little humid with it. Started walking at eight, with poor Dhan carrying my pack and his own bag. We've had a few breathers along the way, and a cup of chiya in a little teahouse, which was nice . . . but rather salty, strangely. A few jeeps and buses drove past us, bumping along on the uneven road, but we've crossed over a couple of major landslides now, so I don't think we'll see any more. We went over some cute little wooden bridges along the way - kind of half bridges, with a bit to walk on plus a handrail on one side, leaning over at a jaunty angle. As well as drinking local tap water, I've taken to drinking from streams along the way, so have my fingers and toes crossed now!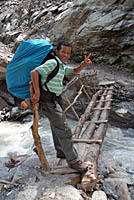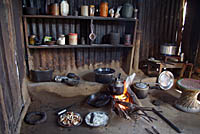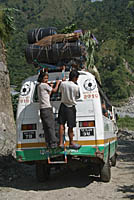 Having dahl bhat for lunch, which is something of a Nepali institution. It's a bit like the Indian's thali, only not as hot. You get dahl - a kind of lentil soup - rice, a couple of kinds of vegetable, and pickle of some description; it differs from place to place. A big advantage of dahl bhat is that you get seconds - they come out and top everything up, if you so wish - bonus! We're eating at a little roadside shack, along with three Americans and their guide and porter, whilst a mother hen fusses over her cute little chicks outside. The crew have to wait until all the tourists have had theirs before they can eat; it's just the way things are done here. Must be a pain during the busy tourist season. Doesn't really seem fair, as they're carrying heavier loads.
Dhan's struggling a lot with my bag - especially as it's been so hot today. At least I don't have to worry about keeping up with him, as he walks slowly and has to stop a lot due to the weight of the bag. I got it down to around ten kilos, I think, but he has his own gear to carry too. I feel pretty guilty, but keep reminding myself that this is what I'm paying him for. Some of the porters are carrying a number of big packs, roped together and suspended by bands across their foreheads - I don't know how they do it. Dhan says this is his first job of the season, and he'll be stronger higher up, where it's cooler. I'll put some more stuff into my daypack, hopefully that will help him a bit.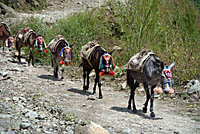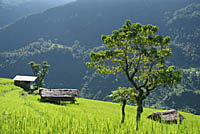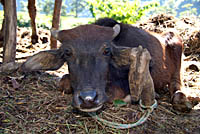 There are a lot of pack mules on the route, they all seem to be empty though; I guess they're going down to where the road ends to get more supplies. This morning I saw snowy mountain tops ahead of us, past the green hills; they're obscured by clouds now, but it was lovely to see. The scenery is beautiful; lots of lush vegetation, and the impossibly bright greens of the rice fields, which will be harvested in around a month's time. Banana trees sprout up alongside the road, and waterfalls gush onto the track in places - handy for cooling off, and having a quick mouthful of water. Wooden shelters provide shade for buffaloes, goats graze beside the road and chickens cluck around outside homes, chasing each other across the road; they're all destined for the dinner plate, but let's not dwell on that, eh? Outside of simple, wooden houses small children with cute faces and snotty noses politely press their hands together and say "Namaste" as I walk past.

Click here for more pictures from Day One

Day Two, 27th September - Jagat to Dharapani
Day Three, 28th September - Dharapani to Chame
Day Four, 29th September - Chame to Pisang
Day Five, 30th September - Pisang to Manang
Day Six, 1st October - Free Day Manang
Day Seven, 2nd October - Manang to Yak Kharka
Day Eight, 3rd October - Yak Kharka to Thorung Phedi
Day Nine, 4th October - Thorung Phedi to Mukinath - Crossing Thorung La
Day Ten, 5th October - Mukinath to Marpha
Day Eleven, 6th October - Marpha to Ghasa
Day Twelve, 7th October - Ghasa to Tatopani
Day Thirteen, 8th October - Tatopani to Ghorepani
Day Fourteen, 9th October - Poon Hill Sunrise then Ghorepani to Hile
Day Fifteen, 10th October - Hile to Nayapul then Pokhara by Bus
Annapurna . . . Finiss! 11th October - Reflecting on the Trip from Pokhara