Getting There, 25th September - Kathmandu to Bhulbhule
Day One, 26th September - Bhulbhule to Jagat
Day Two, 27th September - Jagat to Dharapani
Day Three, 28th September - Dharapani to Chame
Day Four, 29th September - Chame to Pisang
Day Five, 30th September - Pisang to Manang
Day Six, 1st October - Free Day Manang
Day Seven, 2nd October - Manang to Yak Kharka
Day Eight, 3rd October - Yak Kharka to Thorung Phedi
Day Nine, 4th October - Thorung Phedi to Mukinath - Crossing Thorung La


Day Ten, 5th October - Mukinath to Marpha
5/10/10 17:50, Marpha, overnight stop - 2670 metres
OMG I've just watched a sheep being slaughtered in the alleyway outside from my bedroom window . . . you don't get that in Dover! It wasn't a very quick death, the unfortunate animal still kicking as they sawed through its neck. They're washing the blood from the paving stones now. The sheep, with its head still partially attached, was brought into this hotel. I hope whoever ordered lamb for dinner appreciates how fresh it is. Golly!
Sheep-murdering aside, Marpha's a lovely little place; somewhere I'd like to spend more time if I could. There's obviously a strong Tibetan influence here, as can be seen from the boxy houses (reminiscent of those in Spiti and Ladakh). There's a huge monastery, and lots of little stupas, plus a large one painted onto the rock face overlooking the town. I guess there's a Hindu influence too, hence the dead sheep . . . although I believe Tibetan Buddhists tend to be carnivores, including the Dalai Lama - which rather contradicts the whole "equality of all that lives" idea . . . but as I discovered at Kopan monastery, there's a lot of contradiction in Tibetan Buddhism.
The walk today passed through some beautiful countryside, and through another small Tibetan village, before joining the road - albeit a quiet one. This surprised me, as Dhan and I had "agreed" the night before that we would go via the alternative route to Kagbeni, rather than the road. I'd read that the fortress town was most attractive, and was looking forward to it. I think Dhan was hoping that I'd forgotten about it; it was on the itinerary . . . but he's not keen on the itinerary, preferring that "you and me make our own plan" - which means I say I'd like to go a certain route, or leave at a particular time, and he agrees . . . then does it his way. I think this is the Nepali non-confrontational way of doing things - it actually had me hankering for the good old Indian have-an-argument-and-get-things-sorted style! The route we had taken, Kagbeni was a bit of a detour (although it would have been en route if we had gone the other way).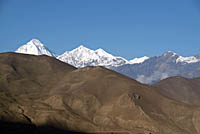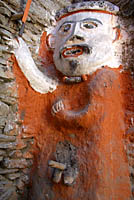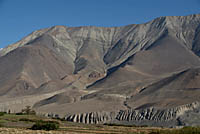 I put my foot down though, and ignored the whip-crack noises Dhan kept making behind me. He'd been trying to talk me into flying from Jomsom for a few days, repeatedly telling me that people don't like the road way, and many take a plane, listing all his customers that have taken this option. I wondered whether it was company policy - it had already been stressed to me by Kul, the manager, that if the trek ended early there was no refund. If I'd have flown, I'd have to fork out for mine and Dhan's tickets (a lot less for Dhan's - about a quarter of the price, thanks to the Nepali two-tier system). I explained to Dhan that there was no way I was going to fly (I'm far too tight- and mulish!), so he may as well save his breath. He wanted us to stay the night in Jomsom, no doubt to give the flight idea a final try, but I wasn't having that either - god, I'm getting right stroppy!
Kagbeni was really nice, and I was glad I'd insisted. The town has a monastery and an old fort, and winding mediaeval streets little courtyards and covered alleyways. There was also a large, well-endowed statue of the Hindu god Shiva, along with Buddhist prayer wheels - both major Nepali religions represented. We had a cuppa in the town, and then set off to Eklobhatti (which means only one guesthouse, apparently . . . although it now has several); a pleasant walk "riverside." The small hamlet sits upon the wide, dry riverbed, and the walk from there to Jomsom was along the same. It was horrible! Hot, dusty, and windblasted, with jeeps speeding along at stupid speeds on the stony surface. A tractor, travelling surprisingly fast, missed me by inches; it had made no attempt to slow down even though I was in its path - I just jumped out of the way in time.
I stomped along at a postman's pace, with Dhan following on behind, and we arrived at Jomsom just after twelve, which wasn't bad going. I had a tasty pizza for lunch, then acquiesced to Dhan's request for a rest, until he looked like he was about to doze off. Then I got us moving again, lest it got too late to get to Marpha, in which case we'd have had to stay in busy Jomsom. I was also worried I'd seize up - my thighs have been killing me today, what with all the "down" yesterday. Resting until they stop aching isn't an option; just got to grit your teeth get on with it. It was only a couple of hours until we got to Marpha, and we were lucky enough to be leaving at the same time as a big herd of goats accompanied by a few mules. Hopefully I got some nice shots, particularly of the mules rolling around on their backs, taking dust baths.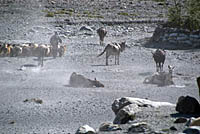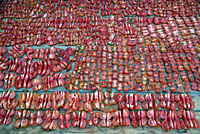 Once we got to the hotel I had a chilly shower, and then Dhan called me for a cup of tea, which we drank before exploring the roof of the hotel. It was fascinating up there - I felt like I was in Mary Poppins! The roof was piled with wood around the edges, stockpiled for winter, and there were flowers and vegetables growing, and cut tomatoes drying in the sun. All around were other roofs similarly utilised, as far as the eye could see. There were no chimneys though, so I refrained from singing Chim-Chim-Cheroo. I had a nice chat with the girl who works here, who studied tourism for four years in Aldershot. Her brother is in the Army - the British army, not the Gurkhas, she was very clear to point out.

I've just had sweet and sour vegetables for dinner - which were neither sweet nor sour, but edible all the same - and washed it down with a couple of glasses of cider, which is a local speciality here. It smelt and tasted as if it was very strong, but it wasn't. Nice though. A little girl who lives here appeared and, after checking that the coast was clear, asked for a sweet/pen/money. Then she helped the Austrian lady at the next table eat her dinner, commandeering the spoon and wolfing down mouthful after mouthful! I tried to distract her, but without much luck. She ended by picking two flowers from a pot plant in the corner of the room, one each for the Austrian woman and I, then bade us goodnight.

Dhan's just turned up looked rather hammered, so I think I'm going to retire for the night - there's an electric socket in the room, so I'll upload my photos to the laptop.

Click here for more pictures from Day Ten

Day Eleven, 6th October - Marpha to Ghasa
Day Twelve, 7th October - Ghasa to Tatopani
Day Thirteen, 8th October - Tatopani to Ghorepani
Day Fourteen, 9th October - Poon Hill Sunrise then Ghorepani to Hile
Day Fifteen, 10th October - Hile to Nayapul then Pokhara by Bus
Annapurna . . . Finiss! 11th October - Reflecting on the Trip from Pokhara