Getting There, 25th September - Kathmandu to Bhulbhule
Day One, 26th September - Bhulbhule to Jagat
Day Two, 27th September - Jagat to Dharapani
Day Three, 28th September - Dharapani to Chame
Day Four, 29th September - Chame to Pisang
Day Five, 30th September - Pisang to Manang
Day Six, 1st October - Free Day Manang
Day Seven, 2nd October - Manang to Yak Kharka
Day Eight, 3rd October - Yak Kharka to Thorung Phedi
Day Nine, 4th October - Thorung Phedi to Mukinath - Crossing Thorung La
Day Ten, 5th October - Mukinath to Marpha
Day Eleven, 6th October - Marpha to Ghasa
Day Twelve, 7th October - Ghasa to Tatopani


Day Thirteen, 8th October - Tatopani to Ghorepani
8/10/10 11:30 Sikha, lunch stop - 1980 metres
Just hung my still-wet clothes out to dry in the sun, as has Dhan - the poor bugger's had extra weight to carry today with all the moisture. It's been a great day. Lots of up so far and lots more to come, but that's easier on my knee than down. I underestimated the up yesterday - we started at 1190, are currently at 1980, and are overnighting at 2874, so we're around halfway. We got off at seven thirty, walking through the pretty stone village and onto the road for a short way, then across two rather dodgy looking suspension bridges. From there the path zigzagged up, so up I strode for around half an hour to a resting-place where I waited for Dhan. The Diamir boys almost caught me up on the way. All the porters do a great job, but the German group's porters are phenomenal. They're so fast with their heavy loads that it never ceases to amaze me - I feel like giving them a round of applause every time they charge past!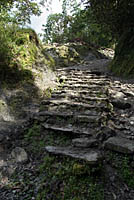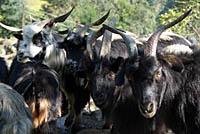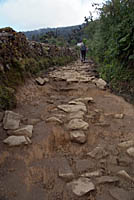 After the zigzags came lots of stone steps, leading through peaceful little villages. We had a few chiya stops along the way, and I gave Dhan a rehydration powder, as the poor guy was sweating buckets. Oh, we're off - I'll catch up later.
14:35 Phalante (pronounce Pilate), tea stop
This place has a gorgeous view of the mountains - Dhaulagiri and Tukuche Peak - plus a poster on the wall of the 2007/8 Arsenal squad, randomly! I've got a tea so sweet it tastes of toffee apples. The lovely SA group have stopped to enjoy the view, and the Germans have just trudged glumly past. I think some of them must have flown - or they've lost a few along the way - as I'm sure there are less of them now.
Oh dear, a poor lad's just come past looking most dejected - he's misplaced his camera, and is retracing his steps to see if he can find him. Bless him - my heart goes out to him.
18:00 Green View Lodge, Ghorepani - 2874 metres
This is a lovely place. Spotlessly clean and a nice hot shower. I've ordered veg and egg fried rice, and a mint tea - must have had ten black teas today easy. I can just see one of the Nilgiri Mountains peeking through the clouds. There's been lots more up since I last wrote, with a few pauses along the way. We went through a Rhododendron Forest - really spooky looking trees. At one of the rest spots we were passed by a huge number of goats being herded, over three hundred of them. I feel so sorry for the goats. They are walked down from the Mustang area, as they breed better, more expensive goats up there. They walk for days and days, with some being sold off along the way, then killed and eaten. I keep telling them this, and try to persuade them to run away, but they just stare at me blankly - I don't think they understand English.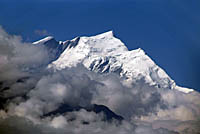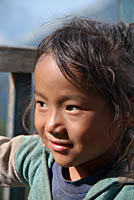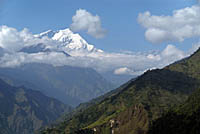 A second, much smaller group passed us as we started on the final bit of up. As the hoots, hollers and whistles of the herders disappeared into the distance we heard a lone bleating - a goat had escaped! Or actually had got lost, and was now sounding quite distressed to be parted from his buddies. I'd like to think that once he gets over the fright of being alone, he'll live a long and happy life, foraging in the forest, but I guess that's unlikely to happen.
19:50
I had apple pie after dinner, which was bloody lovely. I seem to have turned myself into an authority on the Annapurna Circuit, giving advice to a Swiss couple, and trying to dissuade an older German man and his Greek companion from doing the Tatopani to Mukinath road on motorbikes - fuck that for a game of soldiers! My alarm's set for four fifteen, as we march up Poon Hill at five o'clock. Fingers crossed for clear skies and a magical sunrise.

Click here for more pictures from Day Thirteen

Day Fourteen, 9th October - Poon Hill Sunrise then Ghorepani to Hile
Day Fifteen, 10th October - Hile to Nayapul then Pokhara by Bus
Annapurna . . . Finiss! 11th October - Reflecting on the Trip from Pokhara