Getting There, 25th September - Kathmandu to Bhulbhule
Day One, 26th September - Bhulbhule to Jagat
Day Two, 27th September - Jagat to Dharapani
Day Three, 28th September - Dharapani to Chame
Day Four, 29th September - Chame to Pisang
Day Five, 30th September - Pisang to Manang
Day Six, 1st October - Free Day Manang
Day Seven, 2nd October - Manang to Yak Kharka
Day Eight, 3rd October - Yak Kharka to Thorung Phedi
Day Nine, 4th October - Thorung Phedi to Mukinath - Crossing Thorung La
Day Ten, 5th October - Mukinath to Marpha
Day Eleven, 6th October - Marpha to Ghasa


Day Twelve, 7th October - Ghasa to Tatopani
7/10/10 14:00 Tatopani, overnight stop - 1190 metres
We left the grotty hotel around half past seven this morning, and walked along the rough, dusty road before crossing over a suspension bridge to a short, dedicated trekking path on the other side. We spotted the South Africans on the road the other side of the gorge. We walked for a way in the shade of jungly vegetation, to the near deafening buzz of cicadas. It's good that I got to walk through some jungle - we were meant to go through jungle on our second to last day, but Dhan's changed the route. Instead of overnighting in Tadapani, we're now going a different, shorter way and staying in a place called Tikhedhunga. This will leave us with just a three-hour walk on the final day, rather than a seven-hour hike. I'd have been happy to go the other way, but Dhan's struggling even more with the bags now they're heavier and it's hotter - and I've been giving him such a hard time of late over the bags that I felt I should do the decent thing and agree to his suggestion. He also says that this will avoid catching a bus to Pokhara in darkness - and having seen how they drive in daylight, I've no desire to be on one at night!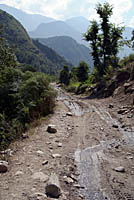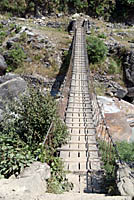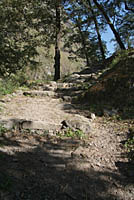 The trail was over rough terrain, and up and down stone steps - down was very painful on my knee - I'll have to strap it up for tomorrow. It did cross my mind that it had been much easier walking on the road, but I didn't dare say that out loud! A while later the trekking path ended at another suspension bridge, and we crossed back over to the road. A short while later we came across Rukshe Chhahara, an impressively large waterfall. I took a few pictures from the road, whilst Dhan waved at me to follow a different route. I'd got quite a bit behind by stopping to take painkillers and put on sunscreen. I'd tried explaining to Dhan that sunscreen is necessary for us white folk to prevent cancer, but I think he still sees it as a vanity. In Nepal and other Asian countries, those who use skin lightening products do so for cosmetic reasons. In the same way that pale-skinned people go all out for a tan, either natural or fake, people who's skin is the colour we'd like ours to be try their hardest to get lighter skin. A classic case of "the grass is always greener..."
I followed in Dhan's wake, crossing over a small bridge and taking a few more pictures. Then I spotted a green snake - about three foot long but skinny. I'd seen a similar one at Kopan monastery. I love snakes, so watched fascinated for a while before moving on. A while later I called a chiya stop, which was wonderfully spiced, and glugged down about a litre of water - it's so much hotter on the lowlands! The scenery grew most impressive a short way on - banana trees and fields of corn in the foreground, and rugged green hills behind, with the snowy tops of Annapurna South and one of the Nilgiri mountains poking over the top of the hills.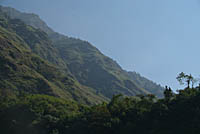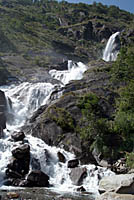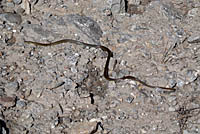 Three hikers came up behind us, and randomly one of them was someone I'd met on the bus from Dharamsala to Manali that had broken down. We caught up for a while, then I broke off to take some pictures - so much lovely, lush scenery with the roaring river rushing alongside the road. A short time later we arrived in Tatopani, where I've just had a very tasty pasta and two cups of black tea. I'm got some washing to do, and then I can hit the hot springs - my leg muscles can't wait!
17:00
Just had a lovely soak in the hot springs, which eased the old muscles. I asked Dhan if he went in, and he said no - the water's too dirty . . . now he tells me, lol! Tatopani's a very pretty place; I was going to take some photos, but it's been raining on and off since we got in - which is typical, as I washed almost everything I have. It's hanging under cover now, but I'm pretty sure it won't be dry by the morning. Never mind. I managed to lose a sock . . . then found it wrapped around the toilet pedestal - which is where it's staying, I'll ditch that pair.

It's a long old day tomorrow - a good seven hours walking, not including breaks, and about 1000 metres up.

Click here for more pictures from Day Twelve

Day Thirteen, 8th October - Tatopani to Ghorepani
Day Fourteen, 9th October - Poon Hill Sunrise then Ghorepani to Hile
Day Fifteen, 10th October - Hile to Nayapul then Pokhara by Bus
Annapurna . . . Finiss! 11th October - Reflecting on the Trip from Pokhara