Getting There, 25th September - Kathmandu to Bhulbhule
Day One, 26th September - Bhulbhule to Jagat
Day Two, 27th September - Jagat to Dharapani
Day Three, 28th September - Dharapani to Chame
Day Four, 29th September - Chame to Pisang
Day Five, 30th September - Pisang to Manang
Day Six, 1st October - Free Day Manang
Day Seven, 2nd October - Manang to Yak Kharka
Day Eight, 3rd October - Yak Kharka to Thorung Phedi
Day Nine, 4th October - Thorung Phedi to Mukinath - Crossing Thorung La
Day Ten, 5th October - Mukinath to Marpha


Day Eleven, 6th October - Marpha to Ghasa
6/10/10 12:30 Kokhethanti - lunch stop
I had a cheese omelette and toast for brekkie, and now I'm about to have a cheese and egg sandwich for lunch; how's that for a varied diet?! We got off around seven, leaving the lovely town of Marpha behind. Despite the map showing an alternative trekking route, which I'd shown Dhan the night before and we'd "agreed" we'd use, we ended up on the road again. In the two hours it took us to reach the next settlement of Ganya, I counted no fewer than thirty buses all heading towards us - many going too fast, and all with trails of dust behind them. It's pretty ridiculous considering that trekking is the main draw for tourists in Nepal; sooner or later someone's going to get killed walking along the road, if they haven't done already. Accidents are common here, and just yesterday a jeep ran off the road killing all fourteen on board.
Dhan and I stopped for a rest, and I showed him the map with a clearly marked trekking route from a town called Tukuche, and asked if we could please take it. Dhan suggested we get the bus, but I said I wanted to walk . . . just not on the road. I suggested that he take the bus tomorrow from Ghasa to Tatopani, along with my big pack, and I'll walk. This will give him the rest that he needs; now we are lower, we are wearing fewer clothes and the packs are heavier. It'll also give my rucksack a break, as stuffing his bulky pack into the top of it is getting harder everyday, and I'm starting to worry about it bursting at the seems. I asked him as we left this morning what he normally does with the bags - after all, not every tourist has a large backpack which is just two thirds full - so how does he normally manage with customers bags? He told me that he doesn't - usually he acts as guide, and someone else is the porter! If that's the case, then no wonder he's been complaining about my bag from day one, and wanting me to carry his. Think I'm going to have to have words with his boss when I get back to Kathmandu, as I made it quite clear it was a porter-cum-guide I needed, not just a guide.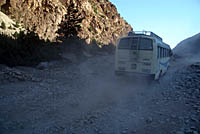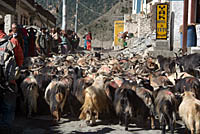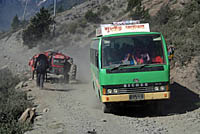 So after agreeing to take the alternative route from Tukuche, we left the town . . . on the bloody road! Maybe it's a language thing - he doesn't understand what I'm saying, so just agrees. I don't know, but it's doing my head in. I showed him the map again a bit later - admittedly he might not be able to read a map - it's something I've often come across with taxi drivers in Asia - they've got it all in their heads, but show them a map and they don't know what they're looking at. Then he said that the road was the only way he knew (up until a few years ago it wasn't a road - just a trekking route), and he didn't want to risk getting lost by taking another route. This was fair comment . . . and made me feel a bit of a bitch . . . but it's still exasperating. If I'd known how horrible this road section was, and that I'd have to walk on it, I'd have spent another couple of days the other side of the pass where it was remote and peaceful, and planned on getting the bus for the road part. As it is having planned to walk all the way, there's no way I'm going to take a bus; I'd feel like a failure.
It's not all bad on this bit - there has been some utterly wonderful scenery, when you can see it through the clouds of dust. Not too long before our lunch break we had to take our socks and boots off and wade through a river - or several parts of a river. I picked my route carefully and ended up with dry trousers - poor Dhan didn't. It was fun, despite the numbingly cold water. As we sat putting our footwear back on, a convoy of five buses steamed through the water returning from whence they came; two were full of passengers, the other three totally empty; just crazy. Many more passed us as we continued along the poxy road, either alone or in clusters. We saw lots of goats being herded, which always makes me smile . . . as long as I don't think about the untimely end they're going to meet at the end of their journey.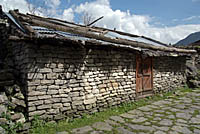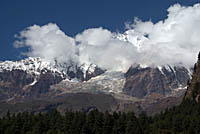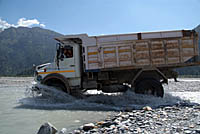 I noticed at the river crossing that my boots have pretty much had it - the toes are starting to come away. Leh took its toll on them. Think I'll ditch them in Kathmandu . . . and make room for more souvenirs!
17:05 Ghasa, overnight stop - 2084 metres
In addition to the horrors of the road, we're low enough to find landslides again - although none as bad as the first couple of days. I think I'm a bit better with them now too. The scenery's been nice and pretty - and I spotted some langur monkeys in the trees, pointing them out to the South African group, who were just behind. They're such a lovely bunch; they've known each other for twenty-odd years, and have hiked together all over the world. As well as landslides, we've returned to the level of pines, ferns, cannabis plants taller than me and buzzing cicadas. There was a steep and dangerous shortcut this afternoon - steps that were covered in debris and fallen rocks - and I twisted my right knee a little. I could hardly complain though, after all the whinging I've done about getting off the road.

We're staying in a bit of a dive, but I've just had my first proper hot shower for almost a week, so I don't care. I washed my hair too, even though it'll get full of dust again on the road tomorrow. As he was showing me how to work the shower, the guy from the lodge offered me some charas - cannabis resin; I declined on the grounds that I wouldn't have the energy to walk anywhere tomorrow!

I'm going to make a big effort to concentrate more on the positives tomorrow . . . although it's hard when you're choking on dust. The sensor on my camera's speckled with dust too. After tomorrow's out of the way, it's back to tranquil trekking routes and off the road, so I'll give it a clean - and wash the dust out of my clothes too.

Click here for more pictures from Day Eleven

Day Twelve, 7th October - Ghasa to Tatopani
Day Thirteen, 8th October - Tatopani to Ghorepani
Day Fourteen, 9th October - Poon Hill Sunrise then Ghorepani to Hile
Day Fifteen, 10th October - Hile to Nayapul then Pokhara by Bus
Annapurna . . . Finiss! 11th October - Reflecting on the Trip from Pokhara