Getting There, 25th September - Kathmandu to Bhulbhule
Day One, 26th September - Bhulbhule to Jagat
Day Two, 27th September - Jagat to Dharapani
Day Three, 28th September - Dharapani to Chame
Day Four, 29th September - Chame to Pisang
Day Five, 30th September - Pisang to Manang
Day Six, 1st October - Free Day Manang
Day Seven, 2nd October - Manang to Yak Kharka
Day Eight, 3rd October - Yak Kharka to Thorung Phedi


Day Nine, 4th October - Thorung Phedi to Mukinath - Crossing Thorung La
4/10/10 17:30 Bob Marley Hotel, Mukinath, overnight stop - 3760 metres
An utterly awesome day! I awoke just past midnight to a pitter-pattering sound on my corrugated-iron roof. I went out to the toilet to find it was snow! (Well, it was hail really, but I'm calling it snow) I next awoke at 02:45 to the sound of someone running around shouting, "wake up" - which I later found out was the South African group's wake-up call. My alarm was set for 03:00, so I spent the intervening time listening to giant cats coughing up furballs; I will never get used to the Asian morning throat-cleaning ritual - eugh! I was sure Dhan had told me breakfast was at half past three yesterday, so I was surprised that I was almost the only person in the dining hall. I ate my pre-ordered porridge with apple, and returned to my room to put on a pair of trousers underneath my waterproofs - it was 8 degrees and felt icy. I saw Dhan (who told me it was "a listening mistake" - he'd said 03:30 wake up) and got his bag from him to put inside my rucksack, while he had breakfast.
We set off in pitch black at 04:15, slowly trudging up the stony path. Dhan was too fast for me, as I had to keep stopping to catch my breath, so I vaguely followed the lights in front, where I could see them. The porters, with their heavy loads, didn't have torches - I just don't know how they do it. Insanely, men without lights were coming down the slope at a pace, with sections of corrugated iron strapped across their backs, making them wider than they were tall. I nearly got taken out by one - and how they avoided colliding with the unlit porters, I don't know.
The terrain was very rough, loose stones and chunks of rock, and the path hardly discernible. To be honest I was glad I was ascending in darkness; I think I'd have been pretty scared in daylight. My camera was in my pack, so it was just a case of head down and get on with it, pausing now and then when I felt my lungs were about to explode. At times I got into the zone, and felt I could just go on and on, almost on auto pilot - and then at other times my legs felt like lead, and every step was an effort. We arrived at high camp around an hour later, with just enough light to take some pictures (although I checked just now, and they're pretty wank - maybe there wasn't enough light after all).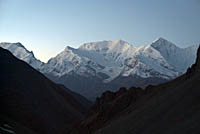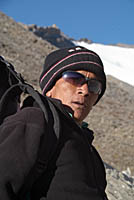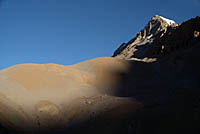 My camera remained out from then on. The most intense and hardest part of the climb was over, there was just two and a half hours of less-challenging up to go until we reached the pinnacle; the crowning glory of the Annapurna Circuit; what we had all been focussing on for the past week: Thorung La. The path was relatively easy, and a couple of feet wide, and it was exhilarating to walk along it in the early morning light, watching the sun's rays prick the tips of the mountain tops, then slowly spread, making them glow beautifully. I felt like I was on top of the world; as if I were on a level with the snowy peaks . . . although the snow proved that I was not. There was no snow here, just frozen horse pooh and scrubby vegetation.
After a couple of hours of mostly painless uphill walking, and a brief tea stop, we reached our goal - the top of Thorung La - at an altitude of 5416 metres. I wandered up to a nearby stupa on a small hill, strewn with prayer flags, and was rewarded with an unexpected view of a number of small, shallow lakes, the most gorgeous shade of blue. I dawdled my way back, snapping off a few more pictures along the way, as Dhan waved me down impatiently. It seemed a shame to rush off after a week-long build up, but he was keen to be going - and knowing how tough it must be to carry my bag, I couldn't really argue. I could have stayed up there an hour taking pictures and enjoying the satisfying feeling of achievement, but I guess that wasn't practical.
The first part of the descent wasn't too bad at all, and I wondered what I'd been worried about - I'd been telling Dhan for days that it wasn't going up that bothered me, but coming down. I took it in my postman's stride, and even ran some of the way, trying to catch up with Dhan . . . although I did keep getting distracted my photo opportunities. My head throbbed like hell, despite copious painkillers and diamox, but I was on such a high from the scenery and having reached my goal that I didn't care. I got held up by mule trains coming the other way, carrying heavy supplies including large gas bottles. After a couple of hours though we reached a section that was everything I'd dreaded - a steep descent on rough terrain that slid out from beneath my feet. If it wasn't for the sticks I don't know how I'd have got down.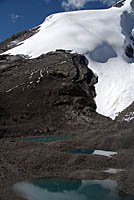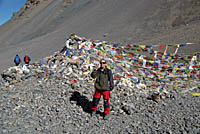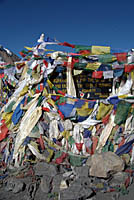 Dhan waited for me to catch up at a flat, grassy section then informed me that he had a headache, and would go ahead to the lunch stop about an hour away and sleep there for a while. I could either wait for him to wake up or continue to Mukinath. He left me with a "see you later" and barely a look behind him as I struggled my way down, feeling more than a little pissed off with him. He's been pretty moody for a few days, very abrupt with me. I think my constant stopping to take pictures is getting on his nerves. I've also noticed that he gets annoyed when I go in front, sometimes even running to get ahead of me. I do it so I can stop for photos without getting left too far behind - to me it makes sense - if I did have a problem surely it's better that I'm ahead than behind. I find his pace difficult to walk at too (at least at lower altitudes, anyway); I prefer to stride off, then catch my breath while I take a shot or two. I think the reason it offends him is a cultural thing - women belong behind men; I've also noticed that he always has to sit on a higher rock than me when we stop for a break.
Anyway I managed to make it down in one piece, and had a much-needed pasta and a mint tea. Then there was a little confusion, but it turned out that he'd decided against having a sleep, and would continue down with me. So then I felt like I bitch, stopping him from having a kip, and hung back for a bit of a cry. I don't know what motivated his change of heart, but he was as nice as pie the rest of the way down; more friendly and chatty than he'd been for days. Perhaps it was just a matter of 'putting me in my place', I don't know - I've never claimed to understand people. As we entered Mukinath a while later I declined the offer to visit a large Buddhist temple on the outskirts of town - I was too knackered . . . plus it had clouded over, so the pictures wouldn't have been all that good.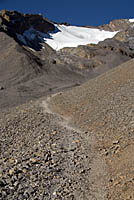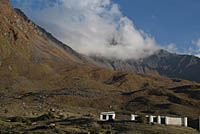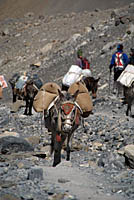 Dhan had promised a hotel with wonderful showers (there had been no showers at the last two places we'd stayed), in the shape of the Bob Marley hotel; a large establishment. We were met by a transvestite (at least I hope it was - one hell of an ugly woman if not!), who gave Dhan the keys to what was I think the dingiest room I've ever been in. There was a window, but an adjacent building a foot or so away blocked the light; the walls were painted dark green, and the weak energy-saving bulb gave off very little light. Once I shut the door I could hardly see a thing. I felt pretty low for a few minutes (plus tired and emotional - it'd been a day of ups (1000m) and downs (1,600m) quite literally), then took matters into my own hands, and asked for a change of rooms. I ended up in a large room above the restaurant - which was pretty noisy, but at least there was daylight - and a nice view to boot.
The next shocker was the shower. The hotel was large, with around forty rooms, but had only one shower, which was next door to my room. A pathetic dribble of lukewarm water came out of the showerhead - I'd have got more warm water had somebody pissed on me! Most of the people staying there had not showered for three days, and just had a full-on day of hiking. It was pathetic. I sat in my room writing up my journal listening to person after person saying the same thing - before the shower: "just one shower in a hotel this large?!" and after: "the shower doesn't even work properly!" The large Diamir group of Germans are staying here too, so I guess the place was decent enough last season, but has gone downhill - either that or the guides and porters get big backhanders for bringing their guests here.
20:00
Just had an unexpectedly delicious cheese gnocci for dinner, so things aren't all bad here! Dhan joined me for a while at dinner, and was in much better spirits, having quite obviously had a tipple or three. Maybe that's why he's been grumpy for a few days - no alcohol before the pass!

Click here for more pictures from Day Nine

Day Ten, 5th October - Mukinath to Marpha
Day Eleven, 6th October - Marpha to Ghasa
Day Twelve, 7th October - Ghasa to Tatopani
Day Thirteen, 8th October - Tatopani to Ghorepani
Day Fourteen, 9th October - Poon Hill Sunrise then Ghorepani to Hile
Day Fifteen, 10th October - Hile to Nayapul then Pokhara by Bus
Annapurna . . . Finiss! 11th October - Reflecting on the Trip from Pokhara