Getting There, 25th September - Kathmandu to Bhulbhule
Day One, 26th September - Bhulbhule to Jagat


Day Two, 27th September - Jagat to Dharapani
27/9/10 13:15 Tal, Lunch stop - 1700 metres
We got in at five yesterday - instead of five and a half hours like the itinerary suggested, it was nine and a half hours on the road. Today we're already talking about stopping two hours short of our intended destination of Danaque, at a place called Dharapani. I'm starting to worry that this isn't going to go to plan - if I lose a day this early on, what's it going to be like later? What if I need an extra day somewhere to acclimatise to the altitude? Our intended walk tomorrow was from Danaque to Chame, and the itinerary says that would take five hours, but Dhan says it's only around three, and that we can overnight in Dharapani and still get to Chame in about five hours of walking tomorrow. All the estimates in the itinerary seem too low so far, but we'll see.
We had a long afternoon of walking yesterday, but the sky had clouded over, so it was much cooler than the morning had been. Like the previous day, there was some heavy rain in the evening, so it looks like the monsoon still hasn't stopped yet. As long as the rain is confined to night-time though, I don't mind. We set off at 07:45 this morning, and soon after came across a big waterfall, which was frightening to cross, as the stepping stones were right near the edge, with a big drop down below. I got my feet soaked too, and almost had a sense of humour failure. Shortly after that we had to traverse a big landslide that had happened quite recently, walking on a path that was only a few inches wide. Gravel slipped out from under my feet, tumbling down to the depths below. It was very scary. My body stiffened up and I started shaking, and was almost in tears. Without my hiking sticks I don't think I'd have made it across.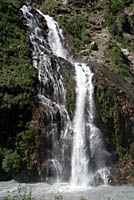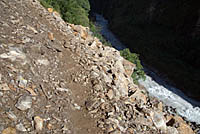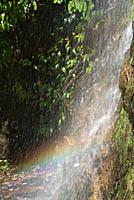 There have been some amazing waterfalls along the way, emptying into the thundering Marsyangdi River - some pretty high ones too, dropping down through gorges they've carved into the rock. The river itself is very picturesque - and the views from the sturdy steel suspension bridges have been fantastic. Sometimes the water pours down the rock-face beside the road, creating a fine mist, and the occasional rainbow, while nearby ferns and mosses soak up the moisture. I can see why there are so many landslides, with all this water about. It's beautiful and dangerous. Is started clouding up a little as we came into Tal; wispy, atmospheric low clouds, that half-hid trees perched high on the mountains.
17:45 Dharapani, overnight stop - 2082 metres
Dhan's really spoiling me - I've got a room with great views, my own bathroom with a sit-down toilet and hot water - what luxury!
I had a bit of a nightmare this afternoon; it really is so dangerous in places. Dhan says that on the low plains, September is the most dangerous time of year, as the ground is very unstable after the monsoon. October is usually okay, but it's been an extra big monsoon this year, that has been very late to finish. October is the best time to be on the high plains, as the cold weather sets in by the end of the month, and there can be waist-high snow on Thorung La (the 5416-metre high pass we cross) in November. There's too much snow to cross the pass from December to March. I'm so glad I've got my hiking sticks. In between being terrified I keep looking at the dramatic scenery, reminding myself of the positives and trying not to dwell on the negatives. It's not so easy on the hairy bits though. My camera got soaked today too, crossing under a waterfall, hopping from rock to rock with the raging river just inches away.
I've spent about two hours today scared out of my wits, convinced that I was about to fall to my death. If I thought there was a way to get out of here without having to retrace my steps over those landslides, I would quite happily throw in the towel right now. Physically I'm in pretty good shape (fitness-wise . . . I'm not bigging myself up!); I'm getting up the hills well enough, although I'm much slower downhill - that's the fear of heights/awareness of how bloody clumsy I am kicking in. It's not my energy levels that are bothering me, it's the fear factor - worrying I'm going to seriously injure myself. I'm not managing to take as many pictures as I like - but then my idea of a good walk is taking all day over a two hour stroll, and soaking it all in. Here I am doing a 22-day walk in 15 days. It's not the way I like to play things. All that said, I am really enjoying the wonderful scenery, even if I can't capture as much of it with my camera as I'd like.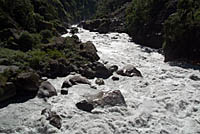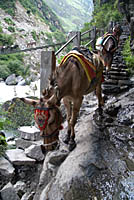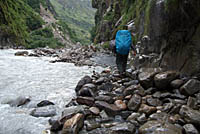 We only got in twenty minutes ago - another nine and a half hour day, mostly down to my cowardice slowing things down I think. Although we did also get held up by a couple of mule trains - one with about thirty animals coming towards us, across a bridge and down some stone steps. I'm very glad I listened to Dhan's advice about stopping here. Hopefully the walk tomorrow to Chame really will only be five hours. My neck and shoulders are aching a bit, mostly due to tension I think. My mind keeps playing on what is to come - will I be this scared all the way (big wuss!)? I'll have to try not to dwell on what's ahead, and just take things one step at a time, quite literally!

Dhan's just given me a menu so I can order my tea. There was a distinct odour of alcohol about him . . . not that I can blame the poor chap - I do get a tad high maintenance when I'm scared (and rather stroppy when my camera gets wet). I must try harder. I saw some massive cannabis plants today, just outside of a creepy little village called Karte. It had a weird vibe to it; reminded me of the village on the moors at the beginning of American Werewolf in London. Think it was a local village for local people, although they did have a couple of guesthouses. I wouldn't have felt comfortable staying there, that's for sure.

Click here for more pictures from Day Two

Day Three, 28th September - Dharapani to Chame
Day Four, 29th September - Chame to Pisang
Day Five, 30th September - Pisang to Manang
Day Six, 1st October - Free Day Manang
Day Seven, 2nd October - Manang to Yak Kharka
Day Eight, 3rd October - Yak Kharka to Thorung Phedi
Day Nine, 4th October - Thorung Phedi to Mukinath - Crossing Thorung La
Day Ten, 5th October - Mukinath to Marpha
Day Eleven, 6th October - Marpha to Ghasa
Day Twelve, 7th October - Ghasa to Tatopani
Day Thirteen, 8th October - Tatopani to Ghorepani
Day Fourteen, 9th October - Poon Hill Sunrise then Ghorepani to Hile
Day Fifteen, 10th October - Hile to Nayapul then Pokhara by Bus
Annapurna . . . Finiss! 11th October - Reflecting on the Trip from Pokhara