Getting There, 25th September - Kathmandu to Bhulbhule
Day One, 26th September - Bhulbhule to Jagat
Day Two, 27th September - Jagat to Dharapani
Day Three, 28th September - Dharapani to Chame
Day Four, 29th September - Chame to Pisang
Day Five, 30th September - Pisang to Manang
Day Six, 1st October - Free Day Manang
Day Seven, 2nd October - Manang to Yak Kharka


Day Eight, 3rd October - Yak Kharka to Thorung Phedi
3/10/10 Thorong Phedi AKA Base Camp, overnight stop - 4441 metres
I think I've being a total hypochondriac - or at least I hope I am. I've got an absolute stonker of a headache and have now talked myself into feeling sick and dizzy! It feels a bit like a migraine. I went to tell Dhan (as you should let others know if you have possible AMS symptoms) but I couldn't find him - which is sod's law, because I normally only have to put my head out of the door and he's there, checking if I'm okay and seeing if I want a chiya. Had a corker of a day, poorly feelings aside. Woke up at 05:45 to a clear sky and great views of the mountains. I staggered out in my night gear to take a few pics . . . then got a bit confused about what lodge I was staying in, in my dozy morning state.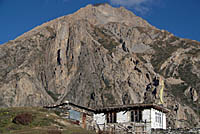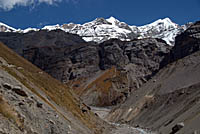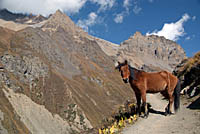 We left at 07:30, and I first got off to a head start . . . then dawdled behind getting my fill of pictures. For me today was the best day yet, scenery-wise. Stark scenery that made me feel the size of an ant. Walking uphill was still a struggle, but no worse than yesterday - better if anything. Had a cup of tea at a stunning rest stop, after a tricky bit zigzagging down to a bridge across a river, then back up the steep bank on the other side. The views were just wonderful. And an extra bonus, when we got into base camp I got a room with a socket - more free leccy, yey! (Filthy sheets mind, and the tablecloth in the restaurant was even worse - well minging.) I guess if this is my last day on earth, it's been a bloody good one!
18:20
Feeling much better now, and I think I might even make it through the night . . . and maybe even tomorrow too, which would be a bonus! I scrounged a paracetamol (or as they call it here, cetamol - they say bruprofen for ibuprofen too, dropping the first letters) and that got me right. Dhan was too busy watching a film with the other guides/porters to talk, so I checked with someone else's guide, who said not to worry too much unless I start vomiting. I had a load of water too, so Christ knows how many times I'll be up for the loo in the night - and it's FUCKING COLD too!! Says 12 degrees right now, and the sun's not long down. I'd say the 'four o'clock freeze' won't be far off that . . . and I'll know for sure too, as Dhan says breakfast is at 03:30 - AAGH! That'll teach me for always wanting to start early, won't it?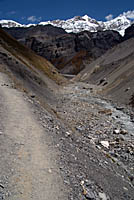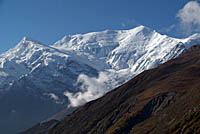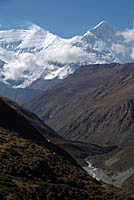 I just had the mushroom soup that I ordered after lunch - wishing I'd gone for something more substantial now. That's the trouble with ordering your next meal straight away after you finish one, you don't know how hungry you'll be later. I got a couple of blankets earlier, as I was freezing my tits off at four o'clock in the afternoon. They don't look too filthy - certainly not as bad as the sheets - although I've not examined them closely. I'd use them even if they were crawling with lice, to be honest; it's that cold. At least my pack should be light for Dhan tomorrow, as I'll be wearing half of my clothes. I'm planning on cycling shorts, waterproof trousers, long-sleeved top, T-shirt, jumper, maybe body-warmer, and waterproof coat, plus my gloves - oh, and woolly hat, of course.

Jesse (who was jamming on guitars earlier with dread-locked Kumar, who runs this place, and sounding pretty good) and his guide (nice guy, snorts like a pig) went up to High Camp earlier, around 400 metres higher than here. They'd intended on staying the night, but Jesse got such a bad headache that they came back down. He said it was the hardest walk of the whole trek - walk five paces, then stop and catch your breath. I was well pumped up to do it when I got in earlier. I'm still looking forward to it, but it's going to be TOUGH. And that headache earlier scared me a bit; took the wind out of my sails a tad. There'll be no pictures for the first two hours, as it'll be dark, which is a shame. I should have gone up there today and taken a few . . . then again maybe not, with that headache.

Click here for more pictures from Day Eight

Day Nine, 4th October - Thorung Phedi to Mukinath - Crossing Thorung La
Day Ten, 5th October - Mukinath to Marpha
Day Eleven, 6th October - Marpha to Ghasa
Day Twelve, 7th October - Ghasa to Tatopani
Day Thirteen, 8th October - Tatopani to Ghorepani
Day Fourteen, 9th October - Poon Hill Sunrise then Ghorepani to Hile
Day Fifteen, 10th October - Hile to Nayapul then Pokhara by Bus
Annapurna . . . Finiss! 11th October - Reflecting on the Trip from Pokhara