Getting There, 25th September - Kathmandu to Bhulbhule
Day One, 26th September - Bhulbhule to Jagat
Day Two, 27th September - Jagat to Dharapani
Day Three, 28th September - Dharapani to Chame


Day Four, 29th September - Chame to Pisang
29/9/10 12:30 Dhukari Pokhari, lunch break
Only a short way from Pisang, our overnight stop. There was no electricity in Chame last night, so I didn't write. It's been out for a week - they're doing maintenance in preparation for the main tourist season. We got into Chame about four yesterday; a nice town, with pretty stone buildings. I'd thought that Dhan was struggling yesterday, as he was huffing and puffing, and sighing a lot. He said over dinner that he was thinking he didn't like his job any more, carrying a heavy bag (it's around nine or ten kilos - plus his own stuff of course), and wasn't looking forward to Thorung pass.
I woke up at three o'clock worrying about this. I don't know what to do - I can't fit any more into my daypack without risking it breaking, as I've already put quite a bit extra into it when I first realised he was having trouble with the weight (he'd mentioned this on the first night). I've already snapped my headtorch by stuffing too many things into a pocket (we bought some superglue and fixed it; I'll need it for crossing the pass, as we set off around four in the morning when it's still dark). I was going to carry my big pack today, but Dhan said no. I can see that it would look bad to the other guides and porters, and don't want him to lose face. I think I could manage it okay - although admittedly the air's a lot thinner - we're around 3,000 metres now. I think it would make me stronger, plus give him a break. Maybe he'll let me carry it from here; I'll see.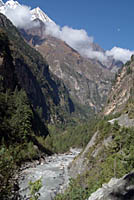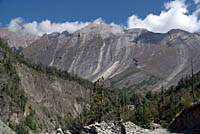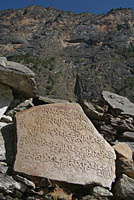 It's been a good day today. Just the one landslide, but with a wide path to follow over it, so not too scary. The scenery is wonderfully dramatic; sheer rockfaces towering on either side of the valley, with the river charging along way below. We've been walking through alpine forest; the path is wide and easy to walk on, and there are lots of mani prayer walls (piles of stones with Buddhist prayers carved into them), and suspension bridges strewn with prayer flags. Yep, sure is a good day. The hiking sticks make walking much easier - it's like having an extra pair of legs. On the flat it's like being on the cross-trainer at the gym - which I used to love - and I can get into a great rhythm and really pick up some speed. I've already been wondering whether I could use them at work when I get back . . . although I think it might be a bit much trying to juggle them and a bundle of letters.
Blimey, I've just heard someone enquiring about mineral water - it costs NR130, over a pound, up here. The extra charge is justified, as supplies have to be carried in by mule. I'm saving a fortune drinking tap water!
21:00 - Pisang, overnight stop - 3190
It's been a great day. We arrived early enough for me to do some washing and then walk to Upper Pisang to see the monastery there. Workers were out in the fields harvesting buckwheat, which was a pretty shade of red, and there were some great views of the mountains from the gompa (monastery - or gumba, as they call them here; they also say tupa for stupa, the white mounds which usually contain Buddhist relics). It was lovely to have some free time for a change, and the energy to enjoy the place I'm staying in. Up until now we've got in too late to explore. It is very rushed, doing it this way - there's so much here and I'm not getting a chance to see it. Seems a shame. I think it would be much better to do the trek in 25-30 days, have shorter days walking, and really appreciate the surroundings instead of belting through.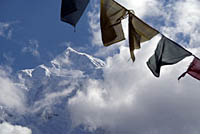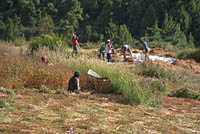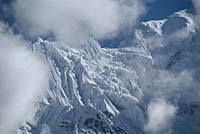 I had a tasty veg and egg fried rice, eating early as the large German group is staying here, then retired to my room - which is tiny and spartan, but had a socket in it, so I got some free electricity - most places you have to pay. I downloaded my pictures and recharged my laptop, camera batteries and phone - which was a right bonus, as it cost me NR100 to charge my phone for an hour the other day, a lot lower down - electric charges get more expensive higher up. I didn't bother with a shower on health grounds - the "hot" water was freezing, and it's fifteen degrees up here, brrrr!

Click here for more pictures from Day Four

Day Five, 30th September - Pisang to Manang
Day Six, 1st October - Free Day Manang
Day Seven, 2nd October - Manang to Yak Kharka
Day Eight, 3rd October - Yak Kharka to Thorung Phedi
Day Nine, 4th October - Thorung Phedi to Mukinath - Crossing Thorung La
Day Ten, 5th October - Mukinath to Marpha
Day Eleven, 6th October - Marpha to Ghasa
Day Twelve, 7th October - Ghasa to Tatopani
Day Thirteen, 8th October - Tatopani to Ghorepani
Day Fourteen, 9th October - Poon Hill Sunrise then Ghorepani to Hile
Day Fifteen, 10th October - Hile to Nayapul then Pokhara by Bus
Annapurna . . . Finiss! 11th October - Reflecting on the Trip from Pokhara