A Visit From Natalie
I travelled to Chiang Mai from Chiang Rai, and there bumped into Joe and Julia, whom I had met in Laos. The three of us spent an enjoyable afternoon at one of Chiang Mai's top tourist spot (well, it deserves to be, anyway), Go Putt Putt, a crazy-golf course on the outskirts of town. I'd highly recommend it, if you've got an afternoon to spare. I also took a one-day cooking course in the town, with the Thai Chocolate Company - so called because to Thai people chillies are said to be the equivalent of chocolate. It was fun, and I got to make green curry - beginning with the paste - spring rolls, pad thai, and a number of other things too . . . all of which had to be eaten by me as well - damn!
By now I was counting down the days until Natalie arrived, but I had to pop out of the country before she did, so as to have enough time in Thailand get my new passport and organise my visa for Myanmar. Citizens of many Western countries get a stamp for 28 days on entry into Thailand, at no cost; if you want to stay longer in the country the easiest way is to do a "visa run", hopping across the border to one of Thailand's neighbours. I decided to do this from the town of Mae Sot, on the border with Myanmar, about halfway between Chiang Mai and Bangkok. On my arrival in the town, I almost felt as if I had returned to Laos, as not a single tuk-tuk approached me, and I was left to wander around until I found Green Guest House. It was a nice little place run by a teacher at the local school, who had opened it to improve her English by talking to foreigners. She told me that the school was desperately seeking English teachers, no degree required, just native English speakers. Apparently the government now issues one-year visas to those teaching English over here.
The following day I hired a pushbike and rode the 6km to the border, paying US$10 to cross over into the Myanmar town of Myawaddy. As I crossed the "Friendship Bridge" (a bit of an anomaly, as there's not an awful lot of friendship between the two countries), I learnt how to say hello - which sounds like minger-lubba, with a hard G - and thank you - sounds like jesu-dem-bugger, kind of. In Thailand they drive on the left (sensible folk), whereas in Myanmar they drive on the right, so in the middle of the bridge are signs directing a lane change - that's got to be confusing. On the other side, after being stamped into the country, I took the local version of a trishaw (this one a pushbike with a small, metal cart attached to the front with a flap-down seat) to the market and a couple of temples, which was nice. The "driver" had a little English, and explained what he could to me, in between spitting out the bright red juice of the betel nut he was chewing - in the temple grounds, he did go to the edge by the wall to spit. I noticed many women with something beige smeared all over their faces, which I assumed to be for religious purposes, but have since heard is simply protection against the sun. I'm not convinced, but with let you know once I find out for sure.
After a couple of hours I returned to Thailand, where I was stamped in on my penultimate passport page. In preparation for obtaining my new one, I had gone to a photographic shop to have my picture taken (no booths over here). The man had initially touched me up - in a purely professional manner, you understand - the end result being an improvement on my natural features. Unfortunately he printed the pictures too small, so I had to get him to redo them. By the time I left the shop I had 24 photos of my ugly mug - total overkill!
Natalie was arriving on the 4th, and I wanted to get to Bangkok a few days prior to that, in order to put my passport in to the Embassy and pre-book our places on the overnight sleeper to Chiang Mai. The bus ride back to the capital was interminably long, and it was dark by the time I arrived in Banglamphu. I spent an hour traipsing around with my pack on my back, trying to find an ensuite single room. In the end I gave up, and went for a dingy, cramped room that was meant to be a double, for an extortionate 320 baht. Fortunately the next day I managed to get a nice, clean single in the Rambuttri Village for less money, with the added bonus that the place has a pool. It's become my new home away from home.
It was the next day that I realised I had made a bit of a cock-up over the date - I'd forgotten that August had 31 days, not 30 - so I got there a day earlier than I'd planned. It gave me the chance to meet up again with Joe and Julia before they flew out to India, and the three of us went to see Charlie and the Chocolate Factory at a luxury cinema in Siam Square, that had huge, remote-controlled reclining seats; a most enjoyable excursion. Less enjoyable was having to part with £82 for my new passport, but it had to be done.
Then at last came the day that I'd been looking forward to for ages, and I set off nice and early to the airport to meet my sister - inadvertently going to the wrong terminal, which was luckily only a short walk away from the right one. It did put me in mind, though, of the time she flew out to Orlando to meet me during my first trip; on that occasion I turned up at the wrong airport! She'd managed to get a good deal whereby three nights' accommodation at the Amari Boulevard were included with her ticket, so once she'd cleared the controls - being almost the last to come through - we set off to the posh bit of town. Well, kind of. The soi (avenues) around Sukhumvit Road also contain a number of adult entertainment, shall we say, venues.
That evening we met up with an Australian cousin of ours, who was coincidentally in Bangkok at the time, and kindly shouted us a nice meal. Later we ventured out into the surrounding soi seeing an inordinate amount of elephants, and enjoyed an unexpected shisha at a bright and shiny Middle Eastern establishment. The following day was spent exploring some of the cultural attractions of Bangkok, like Wat Po and the Grand Palace, and also visiting Khao San Road and getting a massage.
We left Bangkok on the Tuesday, and caught the train to Kanchanaburi, where I booked into the Jolly Frog as usual (it's my fourth time there). The accommodation failed to impress, however, so we later moved to the Sugar Cane, where we slept in a room on the river. I'd had some great plans for our time in the area, but things went less smoothly than I'd hoped, as is often the way. Our first disappointment was that the Tiger Temple that I'd visited last time around was closed for refurbishment, or some such thing. We did book up for a two day mini-trek, only to find that we were saddled with possibly the worst two guides in history. It wasn't entirely their fault - one girl had only done the trip once before, and the other hadn't even done that - but they really didn't put any effort into it at all. They were unable to answer any of our questions, and the only thing they pointed out to us in two days was a large Buddha that we drove past, and a chain of hills that allegedly looked like a pregnant woman. The driver was a different story; he had no English, but was very smiley, and we are both convinced he was a truly lovely man.
The trip began with a two-hour trek through a National Park, before we were deposited at a homestay - a guesthouse in a small village - where we were to sleep in a stilted rattan room. We saw the girls heading into the village, so went with them . . . only to find they were just getting crisps from the shop; they told us we could have a look around - they were going back. We did get to meet the friendliest dogs with the waggiest of tails, who slept on the porch outside our room that night - waking Natalie up every time they scratched, which was often. We were served some yummy food by the owners of the homestay, which we ate whilst watching the local village kids practising some songs and dances nearby. Afterwards we read the comment book the owners had left on the table. Most of the comments mentioned how fun and entertaining the guides were - they'd obviously booked up with a different outfit to us.
The next day we got a kitsch ride on an elephant, and a peaceful float on a raft, before heading to the emotive museum at Hellfire Pass. The trip finale was supposed to be a ride on Death Railway, but as luck would have it the train had had an accident the day before, and was not yet fixed. We did get to stop near to the spot on the way back to look at the broken down train, though. We went on the journey under our own steam, as it were, a couple of days later, plus visited waterfalls, war cemeteries and the JEATH museum whilst in the town.
We had already signed up with the same company to visit the floating markets at Damoen Saduk, on our way back to Bangkok. We were a little apprehensive - especially as no one had turned up to collect up fifteen minutes past the allotted time. I phoned them up, and was told that they'd thought we'd cancelled, but to give them their due, our lovely driver turned up after about ten minutes, and drove us to the town. The markets were a lot of fun, even if they were very touristy, and we both enjoyed the outing, and bought the cheesy commemorative plate with our photo on for our parents.
We caught the bus back to Bangkok, and hung around in Banglamphu until it was time to catch the overnight train to Chiang Mai. I'd books up two second-class sleepers, at a cost of around 10 pounds each. When we boarded, we found two seats facing each other, but within an hour or so the guard had come round and turned these seats into the lower bunk, and pulled the upper bunk into position; the beds were most comfortable, and made for a good night's sleep. We arrived refreshed in Chiang Mai the next morning, and got a tuk-tuk to our accommodation, just inside the old city. We spent the day exploring some of the temples in the vicinity, and visited the night market that evening. The next day was similarly spent shopping and sightseeing.
After breakfast the next morning we travelled to Sukothai, staying at the friendly Ban Thai guesthouse. The following day we explored Old Sukothai on hired push bikes, enjoying the peaceful, ruined city. Our next stop was to be another of Thailand's old capitals, Ayuthaya. We travelled there third class on the train - always my favourite was to travel, if I can, as the windows are open which makes it easier to take photos, or just to enjoy the view. More locals travel third class, and a variety of vendors get on and off along the way, which makes the journey so much more interesting that being cocooned behind tinted windows, in air-conditioned isolation. Ayuthaya remains a favourite of mine, although Natalie was not as impressed.
The time had come to return to Bangkok, and spend one more night at the Amari. We managed to squeeze in some last minute shopping, one last pad thai, and a fourth and final massage before it was time to take Natalie to the airport, and wave goodbye to my little sister. I had enjoyed her visit, and don't mind admitting that I shed a tear or two at her departure - I always was a soppy cow at heart!
I returned to Banglamphu, and that nice hotel with the pool where I've been ever since. In an effort to be more sociable while Natalie was over, I had curbed my usual, excessive time spent on the computer, which meant I had over a thousand pictures to plough through, and get online. I've also been studiously swatting up on Myanmar. By the way, the adjective is also Myanmar, as in the Myanmar people, or language - I had been wondering. And talking of the language, it's a confusing collection of aspirated consonants, glottal stops, nasalised or stopped vowels, and tones that include short, high-pitched ones, and the "creaky high" tone. Will I ever manage to master the numbers one to ten? We shall see.
I've been doing more research into Myanmar than I usually do, as I want to ensure that I minimise the money that goes to the ruling military regime. Myanmar is very different from anywhere else I've been, although I'm not sure how obvious those differences will be; many may be behind the scenes. It is not a free country, that is for sure, and it is important - for their sake - not to engage locals in conversations that could be considered to be anti-government, or overtly political. I am led to believe that many of the people will be happy to talk about the situation, but only when they can be sure that there are no government spies around. Many parts of the country are still off limits to foreigners, but in those areas in which the tourist can travel, the government monopoly on accommodation and transport has largely ended. With a little bit of planning I should be able to make sure that most of my dollars go to "the people" rather that the military junta.
I'm afraid I will be giving them some cash, though (aside from my unavoidable visa fee), as I'm going to take a couple of train journeys - I may not be a full blown train spotter, but I do really like them, and there are meant to be a couple of classic journeys to be had on the British-built tracks. I've bought a copy of Paul Theroux's Great Railway Bazaar to accompany me, which I'm looking forward to - I do like his style.
It's not all been catching up and swatting this last week; I've also had some minor excursions to forts, wat, the National gallery, and the weekend market, amongst other places. The most rewarding was a visit to the National museum whereby I joined an English-language tour about Buddhist and Hindu art, with a bit of Thai culture and history thrown in. It was conducted by a very knowledgeable Dutch lady, who has lived in Asia for over twenty years; most inspiring. They hold the tours on Wednesdays and Thursdays, and I'd highly recommend them.
I'm expecting to be pretty much out of touch for the next month - the authorities have blocked access to hotmail and the like, in order to limit the Myanmar people's contact with the outside world. You never know, though, I may be able to access my website during my time there, and will post updates when I can. I'm not expecting to be able to upload any pictures, but if I do manage to, you can find them here.. And feel free to email me - it's always nice to hear from you, and I'll be able to read and answer them when I get back.
Until then, here's hoping life is being good to you.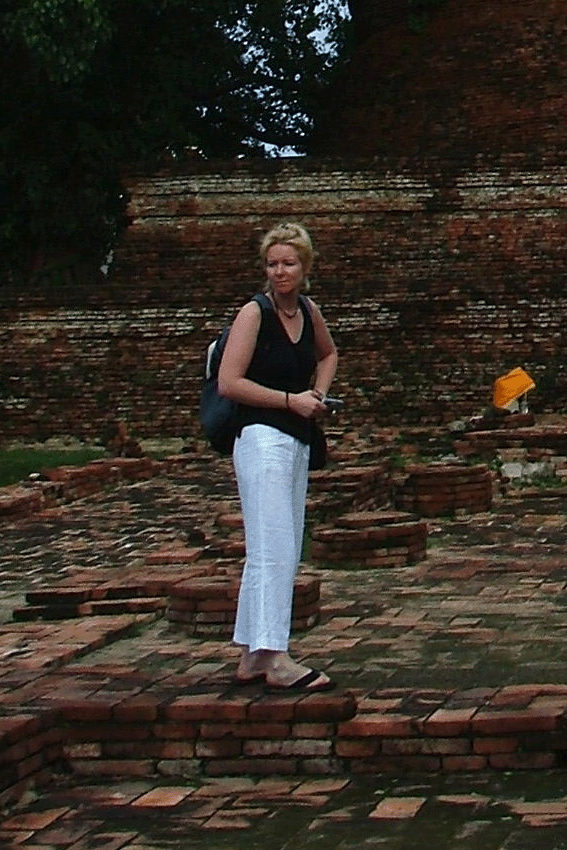 You can see Natalie's photographs from her vist here, and if you'd like to see more of her then visit my new Where's Wally gallery.
---